Welcome To Blessed Beginnings of Oro Valley
Preschool and Kindergarten
Here at Blessed Beginnings we offer so much more than just childcare for your young children. We are a full preschool and kindergarten offering the best possible environment for your young children to thrive. We have hands on play-based educational learning experiences that will help your child develop the greatest educational foundations during their preschool years. We have multiple scheduling options that offer extended day childcare outside of the normal preschool day. We also have a half day option (for most ages) for those parents who just want to start their children out in half-day preschool. Your child will feel welcomed and cared for each day as they are greeted, loved and educated by the best teaching staff around. Whether your child is in our infant care program or in our preschool program, with God on our side we will start your child out on the right path both educationally and spiritually.
The mission statement of Blessed Beginnings of Oro Valley is to reach children and their parents for Christ and help them to grow in their faith. Your child, whether in our infant care, toddler care, preschool, prekindergarten, or kindergarten will experience the love of Christ through daily bible stories and prayer. Christ and His teachings are woven into all our interactions with our students and their families throughout the day. Children in our toddler two-year-old, preschool, prekindergarten and kindergarten classes get the joy of celebrating the great love we know in Christ during our weekly chapel services.
If you are looking for the best school to send your child who is 6 weeks old through kindergarten, then you should call Blessed Beginnings of Oro Valley today to schedule your tour. Our phone number is 520-214-1200 or you can email Callie Baker, our director, at cbaker@bbov.org. Don't miss out on your chance to enroll your children in this fantastic Christ-centered preschool program. We look forward to hearing from you and adding your family to the Blessed Beginnings Family.
So what makes Blessed Beginnings of Oro Valley different than other preschools and childcare centers?
The first thing that sets Blessed Beginnings apart from other early childhood education centers and childcare centers is the convenient and beautiful location. We are located on the North East corner of Oracle Road and Calle Concordia. Our campus nestles up against the base of the Santa Catalina Mountains and provides beautiful views. We underwent a major construction project that completed in December of 2017 and left our campus with a slew of beautiful classrooms for use on Sunday mornings.  This construction project also created a very secure facility that includes key card entry and cameras monitored in the school office. After much prayer and evaluation, we decided that God has blessed us with these facilities, and we should bless others with them as well. This is when we decided it was time to begin exploring and opening a preschool and/or childcare center.
The security of our campus is of utmost importance. Our security features include cameras that are monitored at two different locations on campus as well as key card entry into the classroom hallways. During school hours we have a member of our security team on campus available to assist with any security concerns. 
The next area that sets Blessed Beginnings apart is our wonderful staff. We we are continually seeking the best and most qualified staff to run our infant care, toddler care, preschool, prekindergarten and kindergarten. We want only the best. Our staff is required to have 25 hours of professional developmental training relating to their students each year. This is 7 more hours than is required by state agencies. We think that it is important for our staff to keep learning as they in turn help your child to keep learning.
We follow below state ratios to help ensure that we are giving children the best education possible. In each age range we are 1-2 students below the state required ratios for the care of children. Our educational program in all our classes prepares children for the next level of development. Children are pushed to move ahead in their development through play-based hands on experiences. Our smaller class sizes and low ratios help teachers be able to meet the needs of their students where each student is at. The smaller class sizes and low ratios also allow for more one on one time with each student. Our infant care program offering individualized lesson planning to ensure that they are being challenged as they develop at the most rapid rate. As the children get older and move through our toddler and preschool programs they learn to work with groups and experience learning a little more as a class than as an individual only.
The infant care, toddler care, preschool and prekindergarten programs are incomparable to the rest. Contact Callie Baker, our director, at 520-214-1200 or at cbaker@bbov.org to set up a time to tour and get the enrollment process started today.
Callie is a very caring and extremely hardworking woman with so much passion. I really don't know how she does it all but I just know she always goes above and beyond. My child was in the day care that she directed previously and so I know the program with be amazing with all her help.
I have worked with Callie, the preschool director, and she is very passionate about the start up of this preschool. She has done a great job with the groundwork of getting it up and running and I know it will be an amazing preschool under her leadership. The facilities are top notch as well! Each room is playful and colorful and will provide an excellent learning environment for the kids.
Callie Baker has years of experience working with children and I have had the great privilege to work beside her in the past. She is an asset to Christian Education and children in general. 1 Comment
Latest from Blessed Beginnings News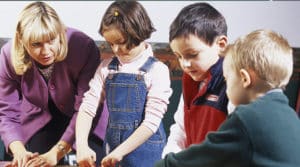 Selecting the perfect facility for your child to be cared for when you are at work can be one of the hardest things you have ever done. It can take
Read More »
Does all the verbiage of trying to decide where to send your young child while you are at work confused? Do you want an early childhood education center, or a
Read More »
It's that time of year. The time when school age children flock to schools around the country in hopes of gaining the best education to set them up for success
Read More »